Click the map to view full size image
It's no secret that the UK is a huge importer of food and drink, it's not like we can grow exotic fruit in our allotments and we're not exactly known for our vineyards!
Just how large scale our import demand is might still come as a surprise to you though, as it did to us when we carried out research on the top food and drink imports to the UK from 191 countries.
The import data for the first 6 months of 2018 was collected from HM Revenue & Customs and broken down into countries and categories. What it revealed was that we import a huge amount of food and drink from pretty much every country in the world.
From Botswanan beef to Vietnamese nuts, here's our breakdown of the UK's top food imports from around the world.
World Imports
The UKs total import figures of food and drink from around the world are staggering.
In the first half of 2018 alone, we imported £23,543,173,333 worth of consumable products. That's twenty-three billion pounds.
These imports weighed 20,948,398 tonnes, which is as much as 3,491,399 average adult African elephants.
Looking at the data in more detail, however, gives us some even more astonishing facts and figures. We'll give you some highlights below, and you can see the full table of top imports by country yourself at the bottom of this page.
European Imports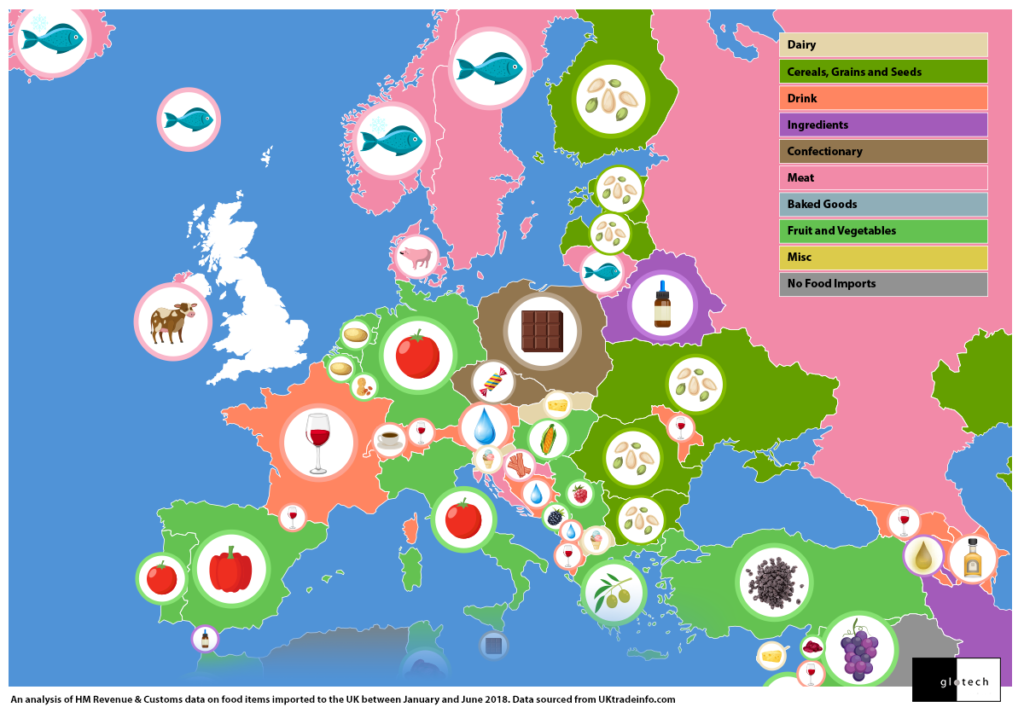 From Irish beef, French wine, and Swedish fish, we receive a variety of food and drink from our closest neighbours.
The biggest single product imports from countries on the continent were:
| | | |
| --- | --- | --- |
| Country | Item |  Value (£) |
| Ireland | Beef |  £        425,701,163 |
| France | Wine |  £        321,044,794 |
| Denmark | Pork |  £        171,542,708 |
| Netherlands | Potatoes |  £        155,382,953 |
| Belgium | Potatoes |  £        115,471,030 |
Other highlights of the top individual items of food and drink imports that came from European countries include the £52 million worth of seeds we got from Romania, the £12 million worth of olives and capers from Greece, and £3000 worth of Liechtenstein wine.
American Imports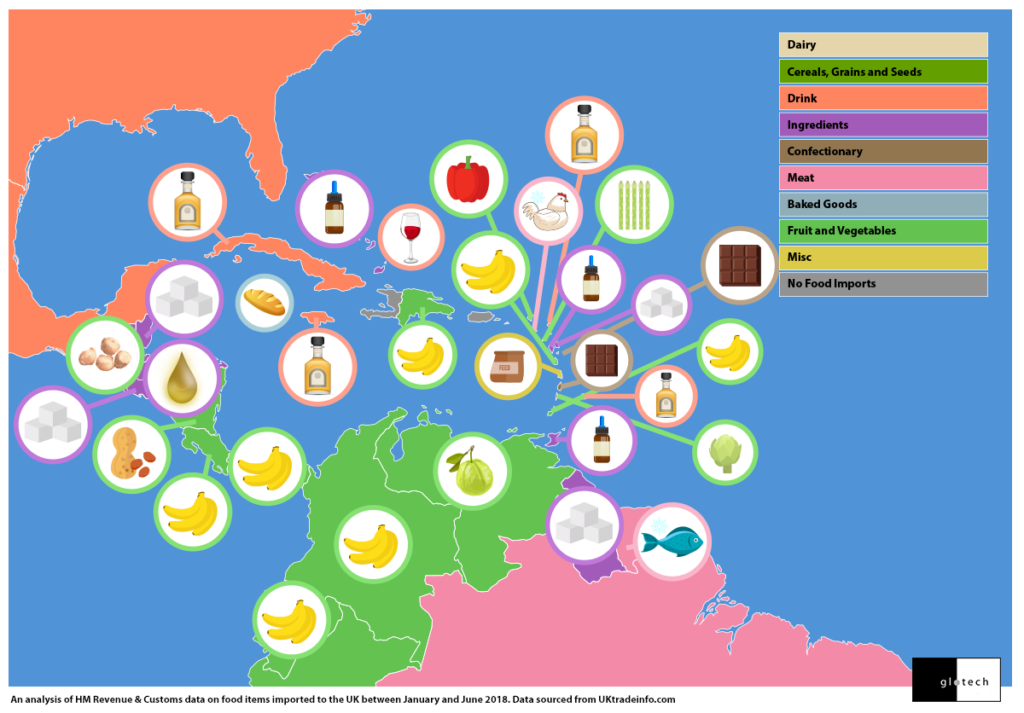 Zooming in on the Central American and Caribbean regions, we can explore which products we most commonly import from these countries, both mainland and islands.
| | | |
| --- | --- | --- |
| Country | Item |  Value (£) |
| Costa Rica | Bananas and plantains |  £        50,349,542 |
| Belize | Sugar |  £        24,676,073 |
| Honduras | Oil |  £        18,093,033 |
| Guatemala | Pulses |  £        12,167,530 |
| Nicaragua | Nuts |  £          7,112,731 |
Several of the smaller islands also provide us with a surprisingly high value of food and drink, such as  £1.1 million worth of sugar imported from Guadeloupe and the British Virgin Islands' £1.2 million worth of sweets.
African Imports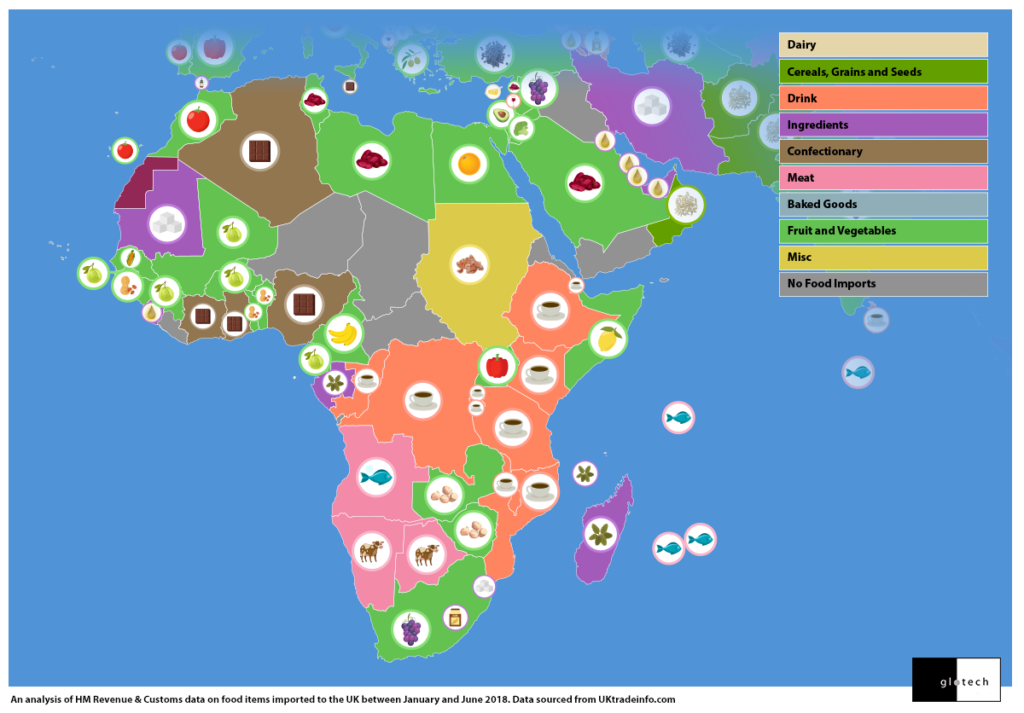 A closer look at Africa's top exports to the UK shows that, although we don't import any food or drinks from Niger, Chad, the Central African Republic, and Eritrea, the rest of the continent is a large provider of daily stables such as coffee, fruit and chocolate.
| | | |
| --- | --- | --- |
| Country | Item | Value (£) |
| Ivory Coast | Cocoa products |  £        126,486,658 |
| South Africa | Grapes |  £        115,229,624 |
| Kenya | Tea and coffee |  £          75,873,029 |
| Ghana | Cocoa products |  £          58,054,261 |
| Morocco | Tomatoes |  £          35,568,083 |
Oceania Imports
Looking at South East Asia and Oceania, we can see that a lot of oil comes from island nations such as Indonesia, Malaysia, and Papua New Guinea, while Australia and New Zealand provide a large quantity of wine.
| | | |
| --- | --- | --- |
| Country | Item |  Value (£) |
| Thailand | Processed meat |  £  302,002,008 |
| Australia | Wine |  £  175,604,889 |
| New Zealand | Wine |  £  123,701,119 |
| Vietnam | Nuts |  £    51,082,452 |
| Papua New Guinea | Oil |  £    37,374,530 |
UK Fruit and Veg Imports
First off – fruit and veg. An essential part of all of our diets, we'd be lost without the wide array of fresh, frozen, and dried fruit and vegetables that are now available on our supermarket shelves year-round.
Where does it all come from though?
Well, a lot more of it comes from abroad than you might think. £5,440,656,736 worth of it in six months, to be precise.
This amount of fruit and veg came from all over the world, with almost a fifth (19%) of British fruit and veg imports coming from Spain, 11% being exported from the Netherlands and 5% coming from South Africa.
UK Meat Imports
Meat, another staple of the British diet, is also heavily imported. Chicken and beef especially come in from a host of different countries before being eaten in the UK.
Our primary exporters of chicken, of which we received £392,415,831 worth, were the Netherlands with 43%, Poland with 17%, and Ireland with 10%.
Making up for their bronze medal in chicken provisions though, Ireland were the clear winners when it came to exporting beef to the Britain, making up a whopping 67% of the value of our beef imports.
UK Cheese Imports
Surprisingly, Ireland's export dominance continued on to cheese imports, beating out favourites such as France, Italy, and Cyprus. Of a total of £817,433,785 worth of cheese that came into the UK in the first half of 2018, £196,074,497, or 24%, of it was Irish.
The much more expected France followed Ireland with £109,828,010 and Italy were close behind with £104,852,199.
Some other strange statistics emerged from our cheese-based research, including that we import £143,824,569 worth of cheddar cheese (it doesn't have to be made in Cheddar, England!) from abroad.
UK Beer Imports
Although the UK does have a thriving beer industry, with local breweries across the country and several national level manufacturers, we still get a lot of our beer from other shores.
Despite the prevalence of European brands like Carlsberg and San Miguel on our shelves, it's actually Mexico who top our import list, with £51,934,573 worth of Mexican beer hitting our shores in the first half of 2018.
Ireland weren't too far behind, however, with a total of £45,072,115 worth of beer coming from across the Irish sea.
UK Wine Imports
Possibly the least surprising of all of the food and drink category results we got from our data was from wine. The top 10 exporters of wine to the UK reads just like the signs in the supermarket wine aisle, with France, Australia, Italy, the USA, and New Zealand making up our top five.
What's a little more surprising is that France's contribution of £321,044,794 worth of vino was almost twice that of Australia's £175,604,889.
Other UK Food and Drink Import Facts
We get more imported fish from Sweden than anywhere else in the world
Antarctica's only export to the UK in the first half of 2018 was £7,911 worth of herbs and spices
Almost twice as much chocolate is imported from Germany as from Belgium
Spain are our biggest exporter of food and drink out of anywhere in the world, with a total import value of £1,028,207,497 in six months
| | | |
| --- | --- | --- |
| Country | Category | Item |
| Afghanistan | Cereals, grains and seeds | Rice |
| Albania | Drink | Wine |
| Algeria | Confectionary | Cocoa products |
| Andorra | Drink | Wine |
| Angola | Meat | Fish (frozen) |
| Antarctica | Ingredients | Herbs and spices |
| Antigua and Barbuda | Meat | Chicken (frozen) |
| Argentina | Ingredients | Oil |
| Armenia | Ingredients | Oil |
| Australia | Drink | Wine |
| Austria | Drink | Water |
| Azerbaijan | Drink | Spirits |
| Bahamas | Ingredients | Extracts, concentrates, residues, preparations |
| Bahrain | Ingredients | Oil |
| Bangladesh | Meat | Seafood (frozen) |
| Barbados | Drink | Spirits |
| Belarus | Ingredients | Extracts, concentrates, residues, preparations |
| Belgium | Fruit and Vegetables | Potatoes |
| Belize | Ingredients | Sugar |
| Benin | Fruit and Vegetables | Nuts |
| Bermuda | Drink | Wine |
| Bhutan | Ingredients | Herbs and spices |
| Bolivia | Fruit and Vegetables | Nuts |
| Bosnia-Herzegovina | Drink | Water |
| Botswana | Meat | Beef |
| Brazil | Meat | Processed meat |
| Bulgaria | Cereals, grains and seeds | Seeds |
| Burkina Faso | Fruit and Vegetables | Guavas |
| Burundi | Drink | Tea and coffee |
| Cambodia | Cereals, grains and seeds | Rice |
| Cameroon | Fruit and Vegetables | Bananas and plantains |
| Canada | Misc | Soya beans |
| Canary Islands | Fruit and Vegetables | Tomatoes |
| Cayman Islands | Baked Goods | Bread |
| Chile | Fruit and Vegetables | Grapes |
| China | Meat | Fish (frozen) |
| Colombia | Fruit and Vegetables | Bananas and plantains |
| Comoros | Ingredients | Herbs and spices |
| Congo | Drink | Tea and coffee |
| Costa Rica | Fruit and Vegetables | Bananas and plantains |
| Croatia | Meat | Processed meat |
| Cuba | Drink | Spirits |
| Cyprus | Dairy | Cheese |
| Czech Republic | Confectionary | Sweets |
| Denmark | Meat | Pork |
| Djibouti | Drink | Tea and coffee |
| Dominica | Fruit and Vegetables | Bananas and plantains |
| Dominican Republic | Fruit and Vegetables | Bananas and plantains |
| Ecuador | Fruit and Vegetables | Bananas and plantains |
| Egypt | Fruit and Vegetables | Oranges |
| El Salvador | Ingredients | Sugar |
| Equatorial Guinea | Fruit and Vegetables | Guavas |
| Estonia | Cereals, grains and seeds | Seeds |
| Ethiopia | Drink | Tea and coffee |
| Falklands Islands and dependencies | Meat | Sheep (frozen) |
| Faroe Islands | Meat | Fish |
| Fiji | Drink | Water |
| Finland | Cereals, grains and seeds | Seeds |
| France | Drink | Wine |
| Gabon | Ingredients | Herbs and spices |
| Gambia | Fruit and Vegetables | Guavas |
| Georgia | Drink | Wine |
| Germany | Fruit and Vegetables | Tomatoes |
| Ghana | Confectionary | Cocoa products |
| Gibraltar | Ingredients | Extracts, concentrates, residues, preparations |
| Greece | Fruit and Vegetables | Olives and capers |
| Grenada | Confectionary | Cocoa products |
| Guadeloupe | Ingredients | Sugar |
| Guatemala | Fruit and Vegetables | Pulses |
| Guinea | Fruit and Vegetables | Guavas |
| Guinea Bissau | Fruit and Vegetables | Nuts |
| Guyana | Ingredients | Sugar |
| Honduras | Ingredients | Oil |
| Hong Kong | Ingredients | Sauces |
| Hungary | Fruit and Vegetables | Sweetcorn |
| Iceland | Meat | Fish (frozen) |
| India | Fruit and Vegetables | Grapes |
| Indonesia | Ingredients | Oil |
| Iran (Islamic Republic of) | Ingredients | Sugar |
| Ireland | Meat | Beef |
| Israel | Fruit and Vegetables | Avocados |
| Italy | Fruit and Vegetables | Tomatoes |
| Ivory Coast | Confectionary | Cocoa products |
| Jamaica | Drink | Spirits |
| Japan | Misc | Sauces and preparations therefor |
| Jordan | Fruit and Vegetables | Cauliflower and broccoli |
| Kazakhstan | Cereals, grains and seeds | Seeds |
| Kenya | Drink | Tea and coffee |
| Kosovo | Drink | Water |
| Kuwait | Ingredients | Oil |
| Kyrgyz, Republic | Fruit and Vegetables | Dried Fruit |
| Laos | Drink | Beer |
| Latvia | Cereals, grains and seeds | Seeds |
| Lebanon | Drink | Wine |
| Lesotho | Ingredients | Flour |
| Libya | Fruit and Vegetables | Dates |
| Liechtenstein | Drink | Wine |
| Lithuania | Meat | Fish |
| Luxembourg | Fruit and Vegetables | Nuts |
| Macao | Meat | Fish (frozen) |
| Macedonia | Dairy | Ice Cream |
| Madagascar | Ingredients | Herbs and spices |
| Malawi | Drink | Tea and coffee |
| Malaysia | Ingredients | Oil |
| Maldives | Meat | Fish |
| Mali | Fruit and Vegetables | Guavas |
| Malta | Confectionary | Chocolate |
| Marshall Islands | Meat | Seafood |
| Martinique | Misc | Reeds (Animal feed) |
| Mauritania | Ingredients | Sugar |
| Mauritius | Meat | Fish |
| Mexico | Drink | Beer |
| Moldova, Republic of | Drink | Wine |
| Montenegro | Fruit and Vegetables | Blackberries |
| Montserrat | Fruit and Vegetables | Asparagus |
| Morocco | Fruit and Vegetables | Tomatoes |
| Mozambique | Drink | Tea and coffee |
| Myanmar | Meat | Fish (frozen) |
| Namibia | Meat | Beef |
| Nepal | Ingredients | Flour |
| Netherlands | Fruit and Vegetables | Potatoes |
| New Zealand | Drink | Wine |
| Nicaragua | Fruit and Vegetables | Nuts |
| Nigeria | Confectionary | Cocoa products |
| Norway | Meat | Fish (frozen) |
| Occupied Palestinian Territory | Fruit and Vegetables | Dates |
| Oman | Cereals, grains and seeds | Rice |
| Pakistan | Cereals, grains and seeds | Rice |
| Palau | Meat | Seafood |
| Panama | Fruit and Vegetables | Bananas and plantains |
| Papua New Guinea | Ingredients | Oil |
| Paraguay | Meat | Beef |
| Peru | Fruit and Vegetables | Avocados |
| Philippines | Meat | Fish |
| Poland | Confectionary | Chocolate |
| Portugal | Fruit and Vegetables | Tomatoes |
| Qatar | Ingredients | Oil |
| Reunion | Meat | Fish |
| Romania | Cereals, grains and seeds | Seeds |
| Russia | Meat | Fish (frozen) |
| Rwanda | Drink | Tea and coffee |
| Samoa | Ingredients | Oil |
| Saudi Arabia | Fruit and Vegetables | Dates |
| Senegal | Fruit and Vegetables | Sweetcorn |
| Serbia | Fruit and Vegetables | Raspberries |
| Seychelles | Meat | Fish |
| Sierra Leone | Ingredients | Oil |
| Singapore | Confectionary | Cocoa products |
| Sint Maarten | Fruit and Vegetables | Peppers |
| Slovakia | Dairy | Cheese |
| Slovenia | Dairy | Ice Cream |
| Solomon Islands | Meat | Fish |
| Somalia | Fruit and Vegetables | Lemons |
| South Africa | Fruit and Vegetables | Grapes |
| South Korea | Misc | Dried pasta |
| Spain | Fruit and Vegetables | Peppers |
| Sri Lanka | Drink | Tea and coffee |
| St Kitts and Nevis | Drink | Spirits |
| St Lucia | Fruit and Vegetables | Bananas and plantains |
| St Pierre and Miquelon | Drink | Tea and coffee |
| St Vincent and the Grenadines | Fruit and Vegetables | Artichokes |
| Sudan | Misc | Natural gum arabic |
| Surinam | Meat | Fish (frozen) |
| Swaziland | Ingredients | Sugar |
| Sweden | Meat | Fish |
| Switzerland | Drink | Tea and coffee |
| Syria | Fruit and Vegetables | Grapes |
| Taiwan | Drink | Spirits |
| Tanzania (United Republic of) | Drink | Tea and coffee |
| Thailand | Meat | Processed meat |
| Togo | Fruit and Vegetables | Nuts |
| Tonga | Meat | Seafood |
| Trinidad and Tobago | Ingredients | Extracts, concentrates, residues, preparations |
| Tunisia | Fruit and Vegetables | Dates |
| Turkey | Fruit and Vegetables | Sultanas |
| Uganda | Fruit and Vegetables | Peppers |
| Ukraine | Cereals, grains and seeds | Seeds |
| United Arab Emirates | Ingredients | Oil |
| United States | Drink | Wine |
| Uruguay | Meat | Beef |
| Uzbekistan | Fruit and Vegetables | Grapes |
| Vanuatu | Confectionary | Cocoa products |
| Venezuela, Bolivarian Republic of | Fruit and Vegetables | Guavas |
| Vietnam | Fruit and Vegetables | Nuts |
| Virgin Islands, British | Confectionary | Sweets |
| Zambia | Fruit and Vegetables | Pulses |
| Zimbabwe | Fruit and Vegetables | Pulses |