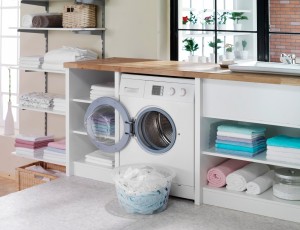 With our team repairing hundreds of washing machines a month, we know a lot about the inner works of your washer but until now we didn't have a clear picture of how the appliance is used across Britain.
We surveyed 2000 Brits to find out as much as we could about people's views on which items need washing more regularly, which items they can get another days use out of and who is in charge of the washing in their households.
You can see the results of our survey below;
Most worryingly, we found that over 25% of men will wear a pair of underpants more than once before the feel the need to wash them with some people admitting to wearing a pair for over 5 days without washing!
The same group were also polled on who is responsible for keeping the clothes clean in their home and found that less than 50% of men feel responsible for making sure their pants are clean, with 42% saying the onus is on their partner and a further 8.58% saying they rely on their mum for help with the washing hamper.
The survey was carried out between the 18th – 20th November 2015 and respondents were made up of 2000 UK Adults. Further breakdown of demographics can be seen below;
Gender % Responses
Female 51.65% 1033
Male 48.35% 967
Age Range % Responses
18-24 11.30% 226
25-34 17.25% 345
35-44 17.25% 345
45-54 18.10% 362
55+ 36.10% 722
Region % Responses
East Anglia 8.90% 178
East Midlands 6.90% 138
London 13.20% 264
North East 4.05% 81
North West 10.95% 219
Northern Ireland 2.95% 59
Scotland 7.90% 158
South East 13.75% 275
South West 9.10% 182
Wales 5.10% 102
West Midlands 9.15% 183
Yorkshire and the Humber 8.05% 161