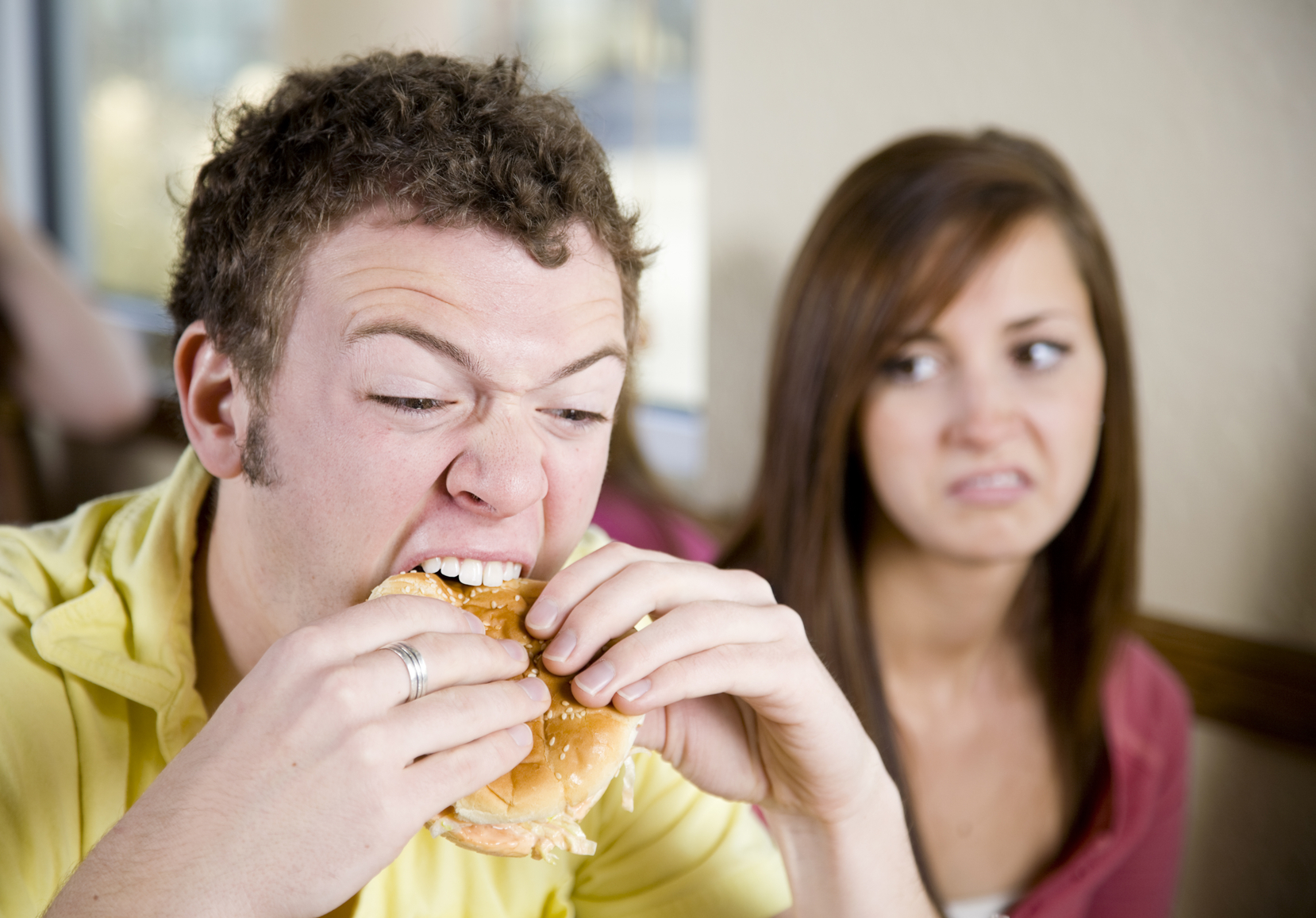 Our new survey finds that women have the best table manners and that London is the capital of foul eating habits
The nation's eating habits have been laid bare in our latest survey, revealing that men have worse table manners than women.
Nearly half of all UK men will happily belch openly during meal-time, with a quarter of them not even bothering to close their mouths while munching.
Our survey of 2,000 men and women about their partner's eating habits also found that men are far less likely to wash their hands before meal-time, unlike their female partners who are much more hygiene conscious.
Further disgusting findings from our latest research showed that over a third of Brits have witnessed their partner openly belching during a meal, whilst almost a quarter of respondents admitted that their partners regularly attempt a conversation with their mouth full, highlighting the lack of shame Brits have in front of their loved ones.
The findings continue to reflect poorly on men in particular, with almost a quarter of the female respondents admitting that their partner regularly chews with their mouth open, and 23% claiming that their boyfriend or husband picks food out of their teeth at the table.
Over 50% of Brits admitted to acknowledging the 5 second rule when it comes to eating food dropped on the floor, with women revealed to be the main culprit of this after 56% of them made the claim.
| | | |
| --- | --- | --- |
| Most Common Bad Habits | Men | Women |
| Prepared a meal for others while ill | 78% | 58% |
| Eaten food off the floor | 57% | 44% |
| Regularly belch openly | 49% | 22% |
| Don't wash hands before preparing or eating a meal | 32% | 17% |
| Talk with food in their mouth | 28% | 17% |
| Chew with mouth open | 25% | 15% |
| Pick food out of their teeth at the table | 23% | 10% |
| Re-using dirty plates and cutlery | 15% | 7% |
| Eat smelly food at work or on public transport | 12% | 10% |
Our research also looked into meal preparation with three quarters of Brits stating that their other half will wash their hands before preparing a meal, preventing the spreading of harmful bacteria.
Eatright.org has previously stated that before every meal you should wash your hands with soap and warm water for at least 20 seconds.
However, Brits' polite eating habits end there, with 68% of respondents claiming to have prepared a meal whilst ill, and a further 11% admitting that they've seen their partner re-use dirty plates and cutlery on a regular basis to avoid the washing up.
Just over a tenth of respondents take their filthy eating habits outside the home, with 11% of Brits admitting to eating smelly food at work or on public transport.
Londoners were revealed to have the foulest eating habits, followed closely by those in the North East and Yorkshire.
Despite their poor eating habits, those in London were revealed to be one of the most likely to stick with traditional household values and eat their meals at the dinner table instead of in front of the television.
In contrast, the South West was deemed the region with the best eating manners.
Bad Habits By Region    
London
Yorkshire and the Humber
North East
South East
Northern Ireland
West Midlands
Wales
North West
East Anglia
East Midlands
Scotland
South West
Bad eating habits are usually kept behind closed doors, but the findings from our study suggest that the majority of Brits are guilty of many of them.
These habits may be deemed harmless, but in regards to our findings around the five second rule and the re-using of cutlery, some of these habits can lead to unwanted illnesses. It's amazing to see how many Brits are willing to put their health at risk to avoid cleaning up after themselves.
If a broken dishwasher is your excuse for re-using dirty plates, then get your dishwasher repaired with us today, so you can stay hygienic in the kitchen!