Our domestic appliances are valuable members of our households- they make our lives easier and more convenient. So, when they break down we need them repaired quickly. Sometimes we can be quick to pick an engineer due to our desire to want our machines back up and running and quick as possible, but there are certain things you should check before booking your appliance repair.
What Qualifications Do They Have?
When choosing a repair company, reputable repair companies should have the required qualifications and accreditation of their competence. For example; if you need a gas appliance repaired you should check the repair agent is Gas Safe registered. You can ask them for their registration number or search by the company name on the Gas Safe website. All gas registered engineers should carry ID cards with the Gas Safe logo displayed.
How Long Have They Been Running?
Experience is knowledge, and knowledge is power. It's common knowledge in business that cash is king, and the key to cash is customers. Happy customers will happily return in the future whilst those unhappy will generally share their disatisfaction.
Ask the repair agent how long they've been running for and check for customer feedback and reviews on their website as well as third party review sites such as Reviews.co.uk.
Are They Trusted?
If the repair company is good then everyone will want to use them. Again, their qualifications and accreditation will go some way to showing just how good they are. Glotech for example are Gas Safe registered, are a member of DASA (Domestic Appliance Service Alliance), and trusted and approved repair agents for many of the world's leading manufacturers including; Miele, Samsung, Beko, Blomberg, AGA Rangemaster, Falcon, and more!
How Much For A Repair?
The cost of repair will differ from provider to provider. More experienced providers may charge slightly more than your 'one man bands' but that's because you'll be paying for their experience and knowledge. Whatever the costs, they should clearly explain all their charges to you at the time of booking. If you're not sure about anything then make it a point to ask questions. The last thing you want are any hidden surprises!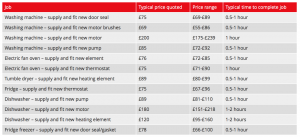 Which? did a great article on the typical costs involved in repairing common faults with appliances.
Be careful of companies who advertise a "no fix no fee" as we've found when they can't repair your appliance many often try and back-track and claim that they have a separate 'diagnostic' charge which must be paid. If you do come across a company who advertises this then ensure you're clear about exactly what this covers and what you'll be liable for in the event of your appliance being beyond repair, or beyond economical repair.
There are a few repair companies out there who insist on upfront payment for their call out charge in order to secure your booking. Whilst this isn't uncommon when compared to other industries, check what your cancellation rights are and what happens in the event of them not coming out to you on the agreed date and time.
How Much For Spare Parts?
Part prices vary depending on many factors; the part you need, whether you're getting a genuine part, the brand, availability, and the model of your appliance. It's common practice for repair companies to ask for payment for expensive parts before ordering as some parts can be special order. Make sure to check that the part is fully refundable if it's not needed.
How Long Should A Repair Take?
Any good repair agent will do everything they can to maximise the chances of repairing your appliance on the first visit. For example at Glotech we stock all of our vans and warehouses with common genuine spare parts for all the major manufacturers.
If parts are required which the repair agent does not have in stock then it shouldn't take more than a few days to order in. Smaller companies will source their parts from middle-men which can take a while however bigger companies, like Glotech, have direct relationships with manufacturers and can therefore obtain parts within a couple of days!
Whether you're looking for a washing machine repair, a dishwasher repair, or a repair to a different appliance, it will save you both time and money to do a bit of research and pick the right repair company.